Date & Venue : 10:00~17:50, Thursday, Oct 24, 2019, / COEX Rm 317, 318, 327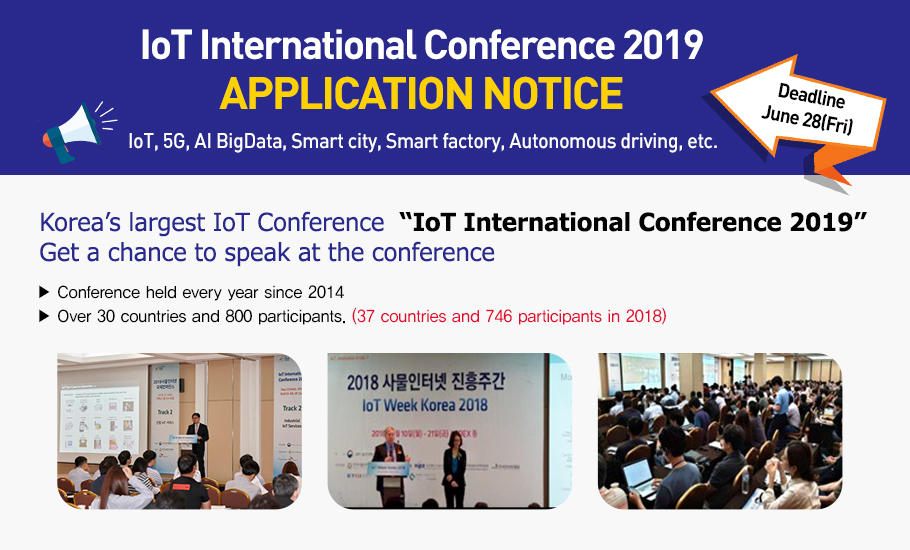 Program
3 tracks (about 30 topics, 40 min each)
Conference Topic
▶ Services and Technologies that converge IoT with 5G, AI and big data etc.
- Smart city, Smart factory, Smart mobility, Smart home, Smart farm, Autonomous driving, Healthcare, AR/VR, Construction, Finance, Logistics, Marine, etc.
▶ New Technologies in IoT convergence (case studies)
- Edge computing, Digital twin, Couvernetis (Cloud), Zerotrust (Security), etc.
Qualification
Department head or higher, University professor, Research organization / Institute expert, etc.
How to apply
Complete and submit the application form by E-mail(jhw@kiot.or.kr), by June 28(Fri)
Application Schedule
Announcement(individually)

~ July 19(Fri)
Application Form
Organized by
Korea Intelligent IoT Association
Contact
| Organizer | Contact | TEL | E-mail |
| --- | --- | --- | --- |
| Korea Intelligent IoT Association | Ms. Ha-Won Jeon | +82-70-4892-4708 | jhw@kiot.or.kr |