Date & Venue : 2020.9.15(Tue)~16(Thu) / Online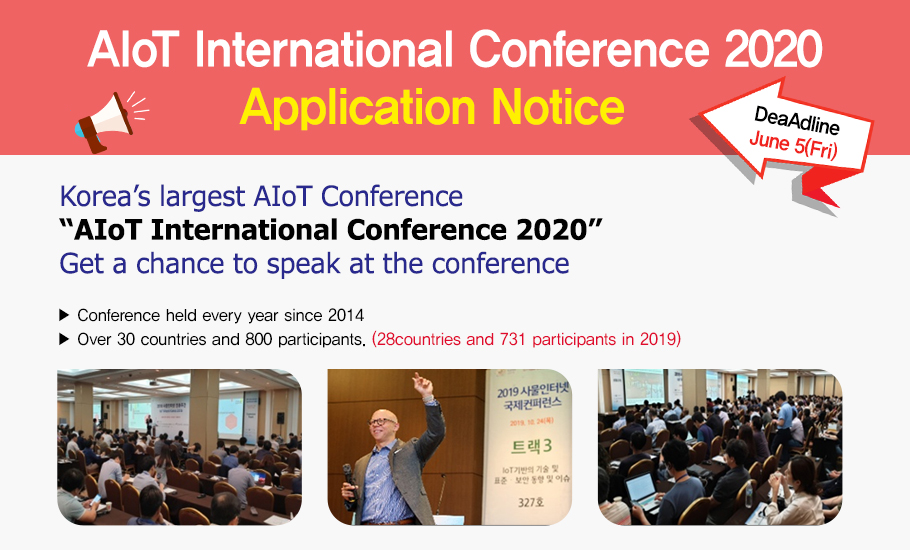 Program : 5 tracks (1 Common Track, 4 Special Track)
- Common Track : Key note about 3 topics
- Special Track : 4 Track about 24 topics
Conference Topic
- COVID-19 Pandemics, Impact on ICT Industry.
- Current Status and Future Prospects of AIoT Convergence in Major Industries.
· Smart city, Smart factory, Smart mobility, Smart home, Smart farm, Autonomous driving, Healthcare, AR/VR, Construction, Finance,
Logistics, Marine, etc.
- Trend of AIoT Technology Development in Korea and abroad and Future Direction.
- AIoT New Technologies, Standards, Security Trends and Issues.
Qualification
Department head or higher, University professor, Research organization / Institute expert, etc.
How to apply
Complete and submit the application form by E-mail(jhw@kiot.or.kr), by June 5(Fri)
Application Form
Organized by
Contacts
| Organizer | Contact | TEL | E-mail |
| --- | --- | --- | --- |
| Korea IoT Intelligent Association | Ms. Ha-Won Jeon | +82-70-4892-4708 | jhw@kiot.or.kr |